6 Questions To Ask When Visiting A Sports Injury Specialist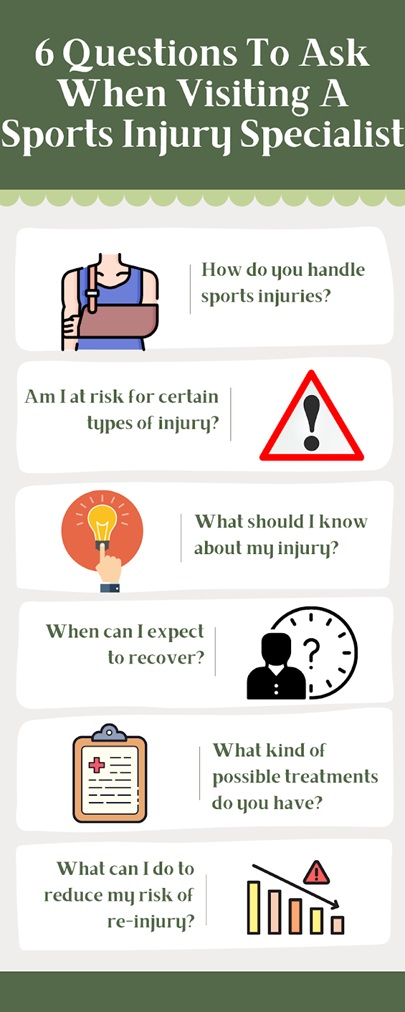 There are many reasons why athletes consult a sports injury Cleveland, TN specialist. It can be because you are serious about your sport and want to stay healthy and active or gain an injury while playing.
However, a sports injury specialist visit will likely leave you with more questions than when you arrived. Below are some questions to ask your doctor during your health check up in Singapore.
1. How do you handle sports injuries?
There is a distinct risk of injury associated with each sport, varying from other sports. Make sure you enquire upfront about the specific sorts of damages that your sports injury specialist treats.
2. Am I at risk for certain types of injury?
Your sports injury specialist can answer everything related to injuries and your body's vulnerability. You will most likely go through a health check up in Singapore to review your medical history and your health status. They may also be able to provide you with a health screening promotion package that fits you.
3. What should I know about my injury?
You may not know the entire degree of your injury until you see a sports injury specialist. During your health screening in Singapore, make sure you can identify specific locations of discomfort.
4. When can I expect to recover?
Make sure you ask your sports injury specialist how long it will take you to recover to your pre-injury activity level. Rehabilitation is an essential part of many treatment strategies.
5. What kind of possible treatments do you have?
You may have to undergo various therapies to get the help you need. Inquire your sports injury specialist about the type of treatment they have in mind and whether it will work for you.
6. What can I do to reduce my risk of re-injury?
Your sports injury specialist will educate and train you in optimal methods and conditions. They want to help you recuperate and reduce the chances of further damage.
Book an appointment with a sports injury specialist from Thomson Wellth Clinic today to know more!